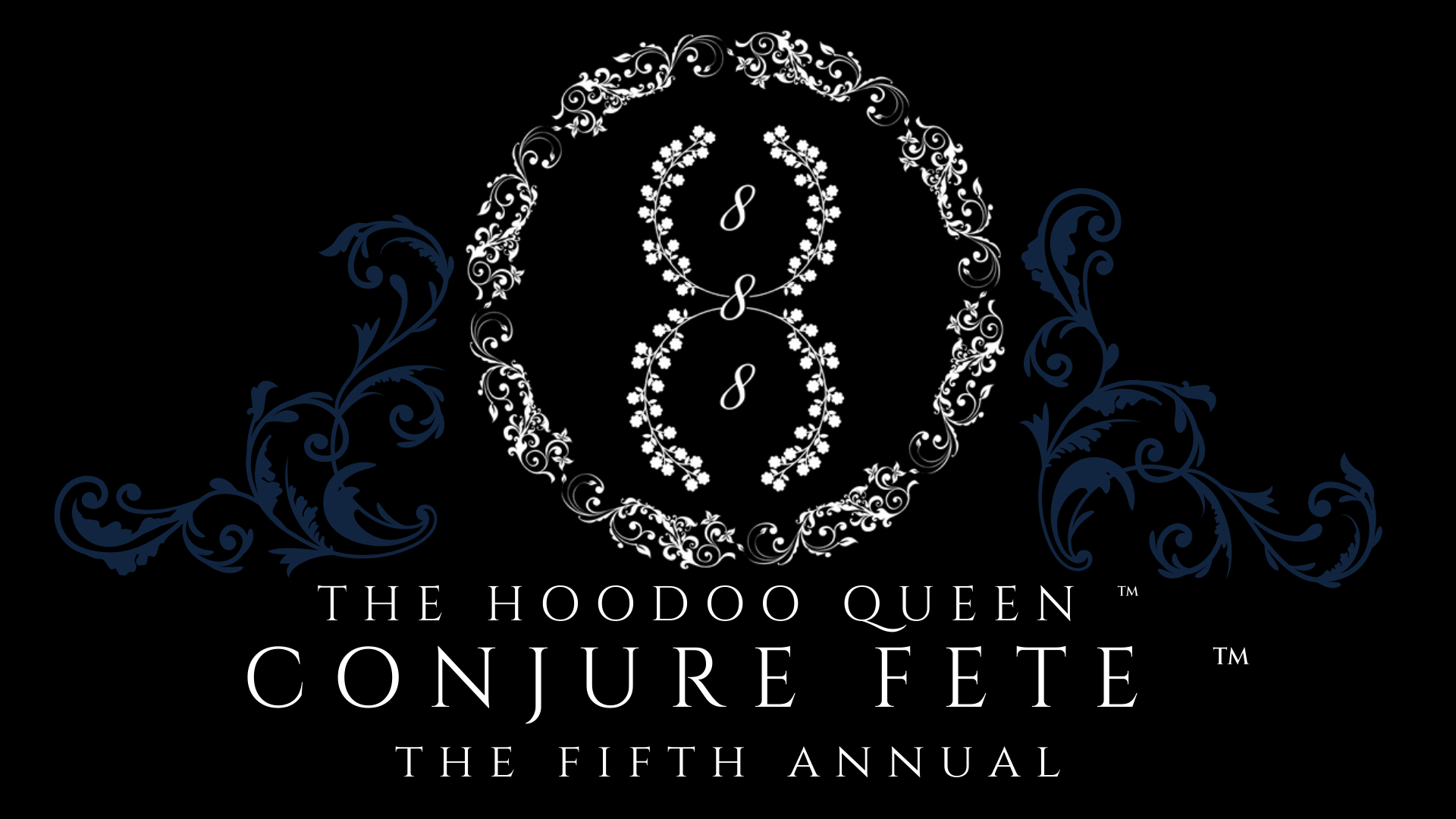 The 5th Annual Hoodoo Queen Conjure Fete ™
APRIL 1st, April 2nd, April 3rd
351 St Francis St, Mobile, AL 36602
CLICK HERE TO PURCHASE TICKETS
https://conjuresouth.com/product/2022-conjure-fete/
Cyber Monday Code: #ConjureFete2022
(This Event is Non-Refundable March 2020 and thereafter , further effective if not made clear on 3/2/2021)
Welcome to the 5th Annual Hoodoo Queen Conjure Fete™ in the hauntingly beautiful Mobile,AL. This is a 3 day weekend of non-stop interactive workshops, classes, rituals, metaphysical shopping and More.  The Hoodoo Queen Conjure Fete™  creates a life changing experience that provides so much education it literally must be processed after the Fete is concluded.
Every attendee attends all classes and workshops in addition to receiving spiritual tools and supplies that you have personally conjured or has been conjured for you within that class.  And all attendees are free to participate in all blessings traditions that take place for example the annual cleansing and protection ceremony.
Each year comes with its own great perks and classes but there a staples of the Conjure Fete everyone LIVES for!!! For example the Africatown Graveyard Walk, which is free with any general IN HAUS/IN PERSON ticket, the Witches Walk which is our private parade of fashion and magic , and the annual Conjure Fete Alumni Photo!
2022 Presenters
Clan Mother Shoran Waupatukuay Piper
Her Royal Majesty Queen Mother Dowoiti Desir
Her Imperial Grace Queen Cotaliya M. de la Pound
2022 CLASSES x WORKSHOPS
HOODOO CLEANSING CONJURE : LEARN THEH TRADITIONAL ART OF HOODOO CLEANSING CONJURE WAYS BEYOND BATHES AND SAGE LED BY, QUEEN COTALIYA 
WANGA CLEANSING:  BE INTRODUCE TO WANGA OR TRADITIONAL HAITIAN HOODOO. THIS CLASS IS WANGA CLEANSING AND HOW REMOVE WANGA  LED BY ; QUEEN MOTHER DOWOTI
INDIGENOUS AMERICAN CLEANSING:LEARN THE TRADITIONAL WAYS OF INDIGENOUS AMERICAN CLEANSING WITH, CLAN MOTHER SHORAN 
HOODOO FOOT TRACK x DIRT CONJURE : LEARN THE OLD WAYS OF FOOT TRACK CONJURE AND HOW  LED BY,  QUEEN COTALIYA
 WANGA PROTECTION :LEARN TO PROTECT YOURSELF FROM WANGA/ HAITIAN CONJURE  LED BY , QUEEN MOTHER DOWOTI
HOODOO MOJO HANDS x SPIRITS: LEARN THE TRUTH AND HOW TO'S OF TRADITIONAL MOJO HANDS AND SPIRIT LED BY; QUEEN COTALIYA
INDIGENOUS AMERICAN SHAPE SHIFTING: BE INTRODUCE TO INDIGENOUS SHAPE SHIFTING AND THE STORIES THAT SURROUND THIS GIFT; CLAN MOTHER SHORAN
INTRANQUIL SPIRITS: LEARN ABOUT THE DEMONS AND UNRESTED SPIRITS OF HOODOO , HOW TO PROTECT YOUR FROM THEM LED BY,QUEEN COTALIYA 
INTRO TO HAITIAN VODOU AND LWA: BE INTRODUCE TO "THE TRUTH" OF HAITIAN VODOU AND LWA  LED BY QUEEN MOTHER DOWOTI
INTRO TO BLACKHAWK: BE INTRODUCE TO BLACKHAWK THE AFRO-INDIGENOUS FOLK SPIRIT IN AMERICAN AND HOW HE MAY BLESS YOU  LED BY CLAN MOTHER SHORAN 
INTRO TO THE INDIGENOUS GREAT SPIRIT: BE INTRODUCE TO THE ONE SUPREME SPIRIT OF THE AMERICAN INDIGENOUS PEOPLE. LED BY CLAN MOTHER SHORAN
ORDER OF EVENTS: THIS IS COLOR THEME EVENT- 
***PLEASE BRING A BLACK PARASOL FOR THE ANNUAL WITCHES WALK ****
2022 COLORS : BLACK, BLUE, AND WHITE EACH DAY IS ASSIGNED A COLOR ( PLEASE VIEW BELOW)
(WHITE) FRIDAY APRIL 1ST: ANNUAL GRAVEYARD WALK x ANCESTRAL REVERENCE CEREMONY ( THIS DAY IS FREE TO ANYONE THAT PURCHASES A GENERAL IN HOUSE TICKET AND THIS IS NOT VIRTUAL )
(BLACK OR BLUE) SATURDAY APRIL 2ND: FIRST DAY OF CONJURE FETE CLASSES, WORKSHOPS, VENDING, WITCHES WALK AND MORE
(WHITE) SUNDAY APRIL 3RD: SECOND DAY OF CONJURE FETE  CLASSES, WORKSHOPS, VENDING, RITUALS AND MORE
IN HOUSE TICKET OPTIONS:  THESE ARE TICKETS FOR THOSE ATTENDING THE FETE IN MOBILE,AL                    * THERE ARE LIMITED TICKETS*
GRAVEYARD WALK x ANCESTRAL TICKET:APRIL 1 AT AFRICANTOWN CEMETERY This is free with any in house conjure fete ticket, this excludes virtual conjure fete attendees)
TICKET OPTIONS AND DETAILS 
**ONCE YOUR PURCHASE IS MADE YOUR ARE ADDED TO OUR GUEST LIST THAT WILL BE CHECKED ON ARRIVAL**
CONJURE FETE FULL WEEKEND TICKET: INCLUDES ALL 3 DAYS, ALL EVENTS x CLASSES
VIP FULL WEEKEND TICKET:  INCLUDES ALL CLASSES AND EVENTS WITH THE ADDITIONS OF
SUNDAY MORNING SUNRISE HEADWASHING AND BLESSING ON DISCLOSED BEACH BY PRESENTERS

SATURDAY NIGHT INITAMATE DISCUSSION PANEL WITH PRESENTER AND WINE DOWN YOGA ( WINE INCLUDED)

20% DISCOUNT ON FRIDAY NIGHT MARKET AT CONJURE SOUTH

ROOTS AND ROOSTER NEW SPRING BOOK BY HIG QUEEN COTALIYA

HAITIAN HOODOO "WANGA" SPRING BOOK BY HRM QUEEN MOTHER DOWOTI
VIRTUAL CONJURE FETE TICKET OPTIONS: THESE ARE TICKETS FOR VIRTUAL ATTENDEES ONLY – THIS OPTION IS  ***NOT*** REPLAYABLE
VIRTUAL CONJURE FETE FULL WEEKEND TICKET: INCLUDES APRIL 2ND AND APRIL 3RD CLASSES, EVENTS, AND RITUALS INCLUDING ALL MATERAIL FOR CLASSES
VIRTUAL CONJURE FETE VIP FULL WEEKEND TICKET: INCLUDES APRIL 2ND AND APRIL 3RD CLASSES, EVENTS, AND RITUALS INCLUDING ALL MATERAIL FOR CLASSES *** IN ADDITION TO ; DISCUSSION PANEL WITH PRESENTERS, ROOTS AND ROSTERS, DISCUSSION PANEL WITH PRESENTERS